Ducati's upcoming offering, the 959 Panigale has been caught testing completely revealing its exterior. The upcoming bike was snapped outside Ducati's facility in Bologna, Italy undergoing testing. The new model looks like a mash up of the 899 Panigale and the 1299 Panigale receiving styling and mechanical inputs from both superbikes. Ducati's 959 Panigale plans were revealed last week via an emission certificate revealing its exact capacity to be 955cc. The 2016 Ducati 959 Panigale release date is 16th November along with eight other new models Ducati has promised to display at the EICMA on November 16th.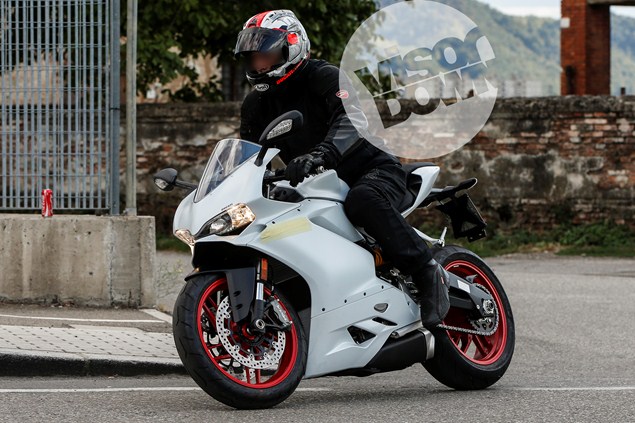 Also See – Ducati Monster 1200R Revealed
There are subtle differences in detailing which set the 899 and 959 apart. The new bike borrows the 1299 Panigale's front fairing which, unlike the 899's nose, does not feature a gap below the headlamps. As can be seen in the pictures here, the scoops positioned below the headlights are also bigger than the 899 Panigale's and the headlamp units are also slightly different in shape.The positioning of the mirrors is also slightly different and each has two stems holding it instead of one. The pictures here also show a gap in the left-hand fairing side panel showing off a Ducati badge on an engine case, a detail seen on the 1299 but not the 899.
Mechanically, the 959 is expected to share a lot with the 899. The front brake looks exactly the same as the 899's, with radial-mounted Brembo monobloc calipers. It is likely to share the 899's fully-adjustable Show big piston fork and Sachs shock, and, instead of the 1299's single-sider, it's got the smaller Panigale's double-sided swing-arm.
Also See – 2015 Ducati Hypermotard SP
Other changes, if any, will be revealed only at the time of the 959 Panigale's unveiling in November at the EICMA. Along with this new bike, Ducati will also unveil eight new models as promised by the company's CEO, Claudio Domenicali. The Italian marque has also released a teaser trailer (link below) titled 'This is Black' which points in the direction of brand new models.
Also See – Ducati Scrambler
The above teaser is most likely not for this particular model, but for one of the other 8 that will be revealed on Nov 16th which could include a new Diavel with a belt drive, new Hypermotard 939, etc.
Stay tuned to Ride Talks for more on the 2016 Ducati 959 Panigale release date and more.
Via VisorDown