Yamaha is most-known for its range of sportbikes (YZF-R125, R6 and R1/R1M). However, the company's two-wheeler product portfolio has a lot more to offer than just those motorcycles. It offers scooters, cruisers, naked bikes and more. Speaking of scooters, today we have some news about a Yamaha scooter. This scooter is called X-Max 400. Yamaha has updated this scooter for the 2018 model year. What is this scooter like? What has Yamaha updated in the scooter? Is it now more desirable than it was before? To find answers to all these questions, keep reading our story on the 2018 Yamaha X-Max 400 which will tell you about its price, specifications and other details. But first, we will tell you about all that's new (or revised) on the 2018 Yamaha X-Max 400.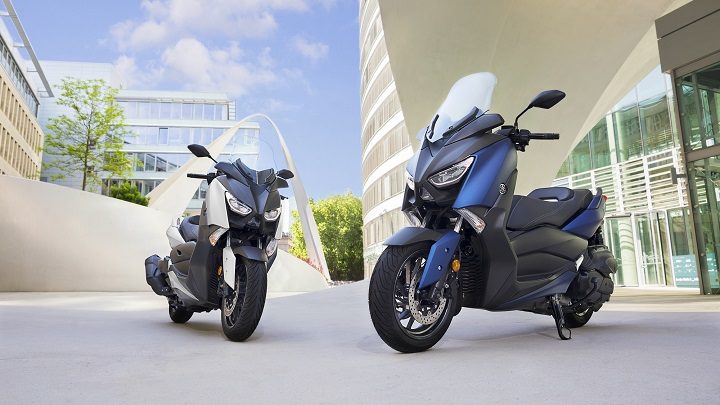 2018 Yamaha X-Max 400: What's New (or Updated)
The X-Max 400 gets styling and mechanical updates. In terms of styling, it gets reshaped bodywork that makes it look like the X-Max 300. It gets LED lighting at both front and rear ends. The seat of the scooter is of a new shape and gets stitched seams. The speedo console has been revised and features two analogue tachometer and speedometer dials. Yamaha also says that this scooter's alloy wheels are all-new. As per Yamaha, the under-seat storage compartment can now accommodate two full-face helmets.
Also Read: BMW R1200GS Recalled! Here's Why
2018 Yamaha X-Max 400: The Mechanical Bits
The 2018 Yamaha X-Max 400 comes with a 395cc single-cylinder engine with power output of 33BHP and torque output of 36Nm. The motor features fuel injection and lqiuid-cooling.Featuring a wet-sump lubrication system, the X-Max 400 has a V-belt automatic transmission. This scooter's fuel consumption figure is approximately 24 KMPL.
Also Read: Is a Ducati Multistrada 1260 in works?
At the front, there is a telescopic fork on the scooter which has 110mm of travel. The rear is suspended by twin shocks, which Yamaha calls Unit Swing. The rear suspension has a 107mm travel. There are twin disc brakes up front with 267mm rotors while the rear has a single disc brake with 267mm rotor. ABS is standard on this scooter. The X-Max 400 weighs 210kg with fluids and it has a 13-litre fuel tank.
2018 Yamaha X-Max 400: When Will It Be On Sale And For How Much
As per Yamaha, the scooter will arrive in showrooms this autumn, meaning you may have to wait till October. The 2017 model year X-Max 400 UK price starts from GBP 5,899. Expect the price of 2017 Yamaha X-Max 400 to start from GBP 6,299. This reflects a slight bump in the price of what is one of the best scooters you can buy right now. This scooter now looks better than before and with new features, feels more desirable too. The ball is in your court. You have to decide whether you like a fashionable-yet-practical scooter or not. If yes, then this scooter is for you.