Suzuki to launch 2015 GSR1000 Naked Beast in Cologne this October
Suzuki is on its way to launch its first ever 1000cc street bike the 2015 Suzuki GSR1000. Though Suzuki has  won critical acclaim for its bikes like GSX-1000R and Hayabusa but still lags in the liter class street bike. Suzuki plans to launch the GSR1000 at Intermot show in Cologne where International Motorcycle show will be held this October. The motorbike will be available in dealerships this autumn.
When launched GSR 1000 will naturally compete against Japanese and European rivals like Honda's CB1000R, Kawasaki's Z1000, Yamaha's FZ1N and MT-09, BMW's 1000R, Aprillia's Tuono V4R, KTM 1290 Super Duke and MV Augusta 1090. The Bike is expected to cost approximately 10000 USD.
Specifications and Features
Bike will be powered by GSX-R1000 1000cc, inline-four engine which churns out 182.5hp and 86 lbft (pound feet or torque) in its existing state.  Instead of 136kw of power it is expected to be detuned to about 110kw, probably with more usable power and torque through the midrange like most naked adaptions of sports bikes.  It is the successor of Suzuki's current powerhouse GSR 750.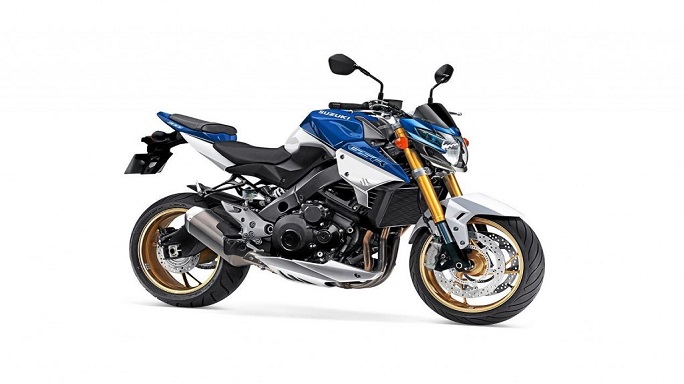 Spied Images point to a GSR 750 frame, GSX-R750 forks, wheels, brakes and the swing arm from an old GSR 600.It will retain a performance oriented chassis.  The leaked images suggest a muscular stance. Being a naked Bike  GSR 1000 will have more comfortable riding position than a sports bike which gives it plenty of handling and performance capabilities especially for mountain biking.
As far as styling is concerned, the yet to be launched GSR-1000 will maintain the genetic attire of the 2014 GSR 750 Special Edition.
With all the spectacular features and blasting power, Suzuki's GSR 1000 will to have to fight the European bikes which give 40 bhp extra and come with electronic systems and traction control. After Suzuki's B-King failed to trouble the sales charts, Suzuki needs to market GSR-1000 intelligently.
Though there has been no official word from Suzuki regarding the specifications of the bike but the General Manager of Motorcycle Product Planning confirmed that there would be 30 all new and updated models over the next five years, with the first of them unveiled before the end of 2014.  Amidst all speculations a power packed riding experience is on its way to thrill bikers all around the globe.