Ronax GmbH ,the German automaker launched Ronax 500 defying the general perspective of two-stroke motorcycles being outdated .The Ronax 500 is the closest thing to a grand prix motorcycle one could buy and  bears huge resemblance to Honda's NSR 500. The German firm has decided to make only 46 such bikes. Incidentally the number belongs to Italian Rider Valentino Rossi, who took NSR to it's last world title.
Ronax 500 is a road bike which can give 1000cc superbikes a tough competition in terms of performance. But it is lighter than any super sport bike and weighs 145 kg. The price will dry your throat as it costs USD $136,000.
Specifications and Features
The superbike is powered by a 499cc engine which is an 80 degree V4 two-stroke mill and is capable of churning out 160 bhp at 11,500 rpm. The bike has 6-speed cassette type gearbox. The power figure puts it in liter class category.
Ronax 500 has bulbous and aerodynamic body parts, pointy rear seat cowl and an uncovered engine bay. The engine block is made of aluminum and features two counter rotating crankshafts. It supports an electric starter and four mufflers made out of Kevlar and carbon fibre.  Ronax have created intensive use of carbon fibre in crafting the bike that has the body, fuel tank and airbox . Ronax have utilized tap spec cycle components on the bike like Ohlins sourced suspension ,Steering damper, Brembo brakes, metallic element swingarm and footpegs alongwith solid aluminum rims.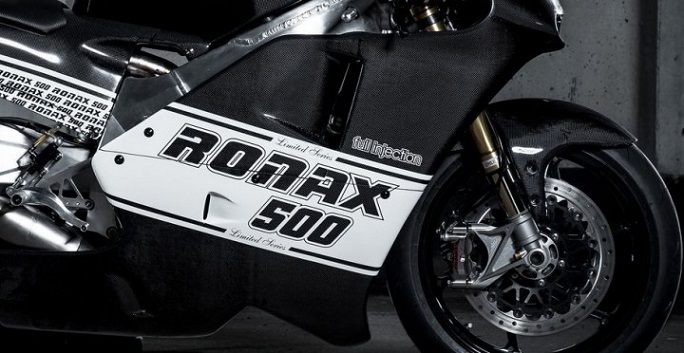 It is equipped with twin headlamps that show neatness tucked away with the air passage and rear-view mirrors with integrated led flip indicators. The bike has support goodies like fuel-injection and electronic engine maps that improve sport and rain condition biking. The two set of cylinders are split from each other at an angle of 80 degrees and are provided food by fuel injection system.
Though there is a cause of concern for Ronax GmbH, as many countries consider a two stroke machine to be polluting and inefficient. Like most hefty treats in world, Ronax 500 comes with a hefty tag and one will have to prebook it with a deposit of USD 41,000 and waiting period is around six months.
As most of us will be unable to ride the dream-bike, here is a short video of two-stoke Ronax 500 in action.
Stay tuned to Ride Talks for more updates.