The world famous British motorbike manufacturer, Triumph is all prepared for a new launch. Tiger 1050 sport will be the name of the new motor bike; it is a facelift of the company's previous creation Tiger 1050. Though, tiger 1050 was not as successful as the Tiger 800 and Tiger 1200. The British motorbike makers think that they still have a fair chance to make the Tiger 1050 famous. However, Company has not given up hope and has launched a new improved Triumph Tiger 1050 sport with high expectations.
As the word 'sport' is added to the name, the company has done relevant changes also to make it a sports bike. In the triumph Tiger 1050 sport 10 BHP more (as compared to the Tiger 1050) has been added to make its engine extra powerful.
So, now the 1050 sport has 3 cylinders motor engine with 123 BHP power which 104 NM of torque. Despite of working on to the power the company has brought 1050 sport with better fuel efficiency. Triumph claims, Tiger 1050 sport has 7% more fuel efficiency than the previous model Tiger 1050. New 1050 sport is featured with single sided swing arm, a slimmer sub frame and revised dimensions and suspension also the redesigned wheels to enhance its look. This time it is sensibly designed in certain way to carry more luggage while going on long rides.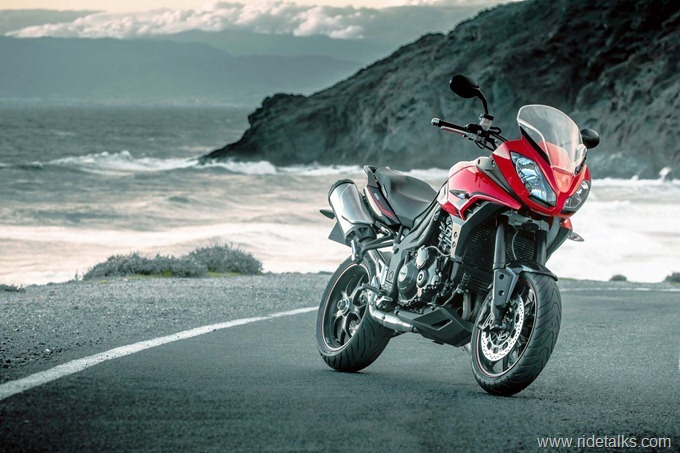 The prices have not been declared yet by the manufacturers, probably in the month of February they will announce it. Except the home land Europe and countries where company has launched previous models, it is still not sure if Triumph Tiger 2013 will be launched in India and the neighboring countries also. However, Triumph informed that the motor bike will be available in markets by the month of March 2013.
More Pictures:
Stay tuned to Ride Talks for latest updates.