Repsol Factory Honda has just unveiled the latest version of the Honda RC213V race bike and livery for the 2013 MotoGP season and this will be the one Dani Pedrosa and Marc Marquez will be riding. They were the ones to unveil the bike which now comes in a new design and an all new colour scheme. The Spanish Duo will be aiming to take the throne from the compatriot Yamaha's Jorge Lorenzo.
2013 marks the 19th year of the collaboration between Honda and Repsol and they intend to bring in the winners trophy back home this year. The latest entrant to the team is the Moto2 Champion Marc Marquez and first testing round will take place in the country of Malaysia between February 5 and 7. The bike was unveiled at Madrid by the riders and the chiefs of the company.
Pedrosa will be beginning the 2013 Season in Qatar on April 7 as the favourite as he had the best run of his career in 2012 as he went on to win 6 of the last 8 races. He has a momentum but he needs to start off this year from where he left last year. The man has 125GP and 250GP world championships to his name and will look to add the biggest superbiking championship title to his credit.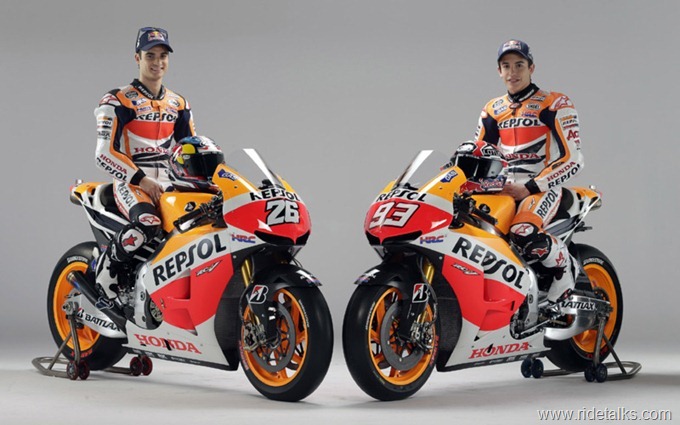 Marquez comes after raising a storm in the Moto2 2012. He has to fill the shoes of two time world champion Casey Stoner which shall be quite an uphill task for the teenager but the bloke is expected to rise up to the occasion. HRC chief Shuhei Nakamoto stated at the unveiling that HRC could win the second 1000cc championship and was of the opinion that Pedrosa could have his first MotoGP winner's title in his 8th season with Honda. We believe the same too.
Also read- 2013 MotoGP Qualifying Rule Changes And Race Calendar