Every Royal Enfield lover would wish to be a part of the The Royal Enfield Himalayan Odyssey at least once in a lifetime. If there is a journey with loads of excitement and adventure, it has to be the Enfield Himalayan Odyssey. Early today morning the 9th Royal Enfield Himalayan Odyssey was flagged off from the India gate. It is not a competition but an adventurous journey of 16 days where 67 riders from India and aboard will cover a distance of 2700 kilometers from the capital of India to Khardung La on their Royal Enfield motorcycles.
Addressing the group of Royal Enfield enthusiasts, and hundreds of people present to wish the riders luck, Dr. Venki Padmanabhan, CEO, Royal Enfield, said, "We are honoured that this band of riders have elected to come with us, on our motorcycles, on this epic bucket list ride, not just honored but deeply touched.."
image – 9th Royal Enfield Himalayan Odyssey
Every course the course is altered so as to make the ride more interesting than the last one. Unlike the earlier editions of the Himalayan Odyssey, this year the riders will cover the Spiti Valley first and then the Rohtang Pass on their way back home. On the way to Leh the riders will pass through Parwanoo, Narkhanda, Keylong, Sarchu via Kalpa and Kaza region. The last region, which is Kalpa and Kaza, they are considered as one of the toughest terrain for riders, not only in India but across the planet.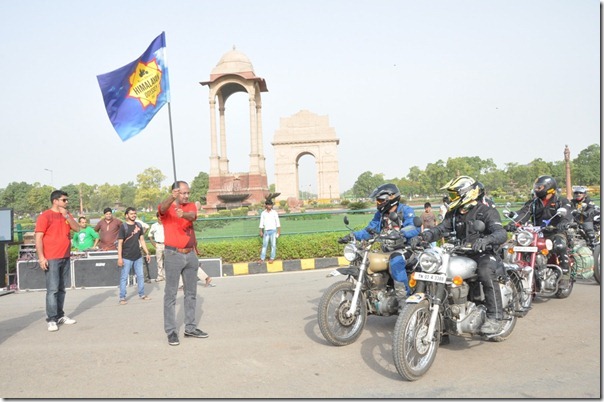 image – 9th Royal Enfield Himalayan Odyssey
The Himalayan Odyssey is one of the oldest adventure motorcycling events and it takes riders through the most beautiful yet, most challenging roads. Interestingly the ride covers all kinds of terrain including rocks, sand, snow and mud. It is extremely challenging for the riders and their Enfields as at some points temperature is as low as minus 30 degrees and oxygen levels also go down. So only those riders who are fit both physically and mentally, can survive these extreme conditions. In case of an emergency, medical help is also available 24×7.
image – 9th Royal Enfield Himalayan Odyssey Riders
'I love to hear their accounts upon their triumphant return in two weeks. The theme is often about transformation. Boys come back as men, men come back sages and sages come back as grinning boys' added Dr. Padmanabhan.
I am sure the riders will have a great time and we wish them luck.