Great news! Triumph fans all around the world are in for a pleasant surprise. A new version of the Triumph Bonneville; a bobber, has been spied during one of its test runs near Barcelona, in Spain. The overall design and characteristics of the new Triumph Bonneville bobber pay homage to the bobbers of the yore and should appeal to those in search of a retro-styled machine. To describe the upcoming bike's overall design, the body work is minimalistic, with just enough hints of chrome on the engine fins, and the side mirrors. Talking of the side mirrors, the same are beautifully attached to the handlebar and end up giving the bike a distinct British elegance. A solo seat with gives it the hard-tail bobber look; which essentially means that it is a hardcore, no-nonsense performer. The twin exhausts, which are expected to be loud enough to rattle bones, have slithered under the engine into a catalytic converter. From the looks of it, Triumph is busy making sure that its upcoming bobber is a responsible hooligan. But the junction, at which it curves in, has a pipe covering making it look as if it were picked right out of a Freightliner truck! The indicator lights are crystal clear unlike the standard Bonnie adding to the overall aggressive and serious styling. Nothing on the bike looks out of place. Triumph have made sure it sticks to the roots of what a bobber is. The angle of the forks on the front,to the seat height and ground clearance, it is flawless.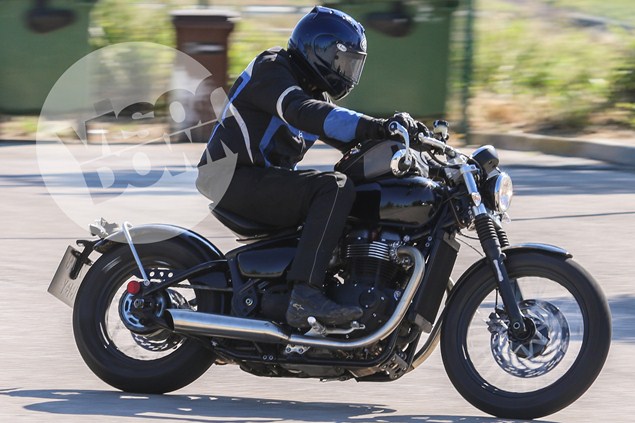 Surely to match the personality, Triumph has installed their brand new liquid cooled parallel twin engine, which boasts 1100cc and churns out 100hp. The bobber has retro design touches like wired wheels and chrome fins on the engine, which certainly help with the classic look. But the huge radiator in the front makes it silently clear that its water that is cooling this fireball. Also Triumph pairing it with Brembo brakes will be a relieving insurance when you twist the throttle. All in all significant upgrades then, from the current line of Bonneville which has just 69 hp from an 865cc motor. Triumph has also announced engine upgrades for the existing Bonneville range; the T-100, Scrambler and the Thruxton. Triumph, in all probability, will pit its upcoming model against the established Honda Shadow ,Yamaha V-Star and the Harley Davidson XL1200. Serious competition then for the Brit.
Likewise a new café racer is rumored to have been conceived with inverted forks and the same engine. Unfortunately the new Triumph Bonneville bobber will not be seen before 2017, as Triumph announced they will unveil the upgrades of the existing Bonneville range later this year and will start production next year. Pricing and complete specifications are yet to be revealed. But from all we know, it definitely looks worth the wait. Better late than never.
Words- Jay Patil
via VisorDown