This might look like a rendering at present, but Young Magazine have more often hit the bulls eye with their scoops and speculations when it comes to motorcycles. The latest scoop to make it the magazine cover is the 2016 Kawasaki ZX10R – which resembles more like an angry Ninja H2R and we'd say we like it. Excluding Honda, most of the top motorcycle manufacturers have already upgraded their machines for 2015 i.e. the Yamaha YZF-R1, BMW S1000RR, Ducati 1299 Panigale etc. The Kawasaki H2 and the track-bred H2R are indeed new machines- but while the H2 falls more into a straightline missile category, the H2R is at the extreme and exotic end of the list. The 2016 Kawasaki ZX10R seems Kawasaki's answer to the already heated up litre class supersports segment.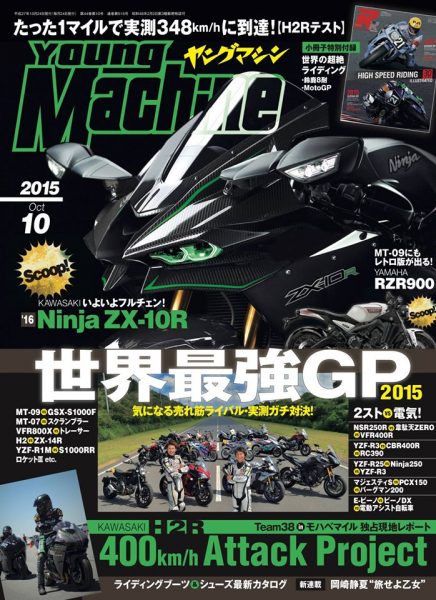 Not many details have been revealed about the new 2016 Kawasaki ZX10R, but enough hints have already been dropped. Thanks to Kawasaki's World Superbike Team Manager- Guim Roda who has stated that the new ZX10R will be a big step forward. Though his comment might look restricted to WSBK, but he does mention about the improvements on a production bike. Here's what he's got to say:
"The concept is the same as the current motorcycle, but there are some changes coming to make it much more competitive. This year the technical rules are more restrictive than in the past, with a view to develop the sport, but it is up to us to eliminate the existing limitations. So we propose going the same way as Aprilia, Ducati and BMW, those have already brought a new bike to the championship for this year. Until last year the technical regulations allowed more freedom. We could develop the race bike much more. But now we are limited more by the changes that we make from the basic bike.
That means that the base bike has to be better, which is much more complicated to achieve. With a good base we can make the race machine better. We are talking about a very sporty superbike with over 200bhp, with potential which we can exploit to 100 percent. Those who use this motorcycle in the world of motor racing will find the new bike much more competitive. It is a big step forward."
The current Kawasaki ZX10R already makes over 200 bhp with RAM Air, a minor increment in power can be expected- but revision to the internals would be a major overhaul. The current ZX10R despite being a potent machine has been criticized to be too tall geared for a track hunter. But the biggest suspense would be whether Kawasaki plonks the supercharger onto the new ZX10R. Definitely clashing with the WSBK regulations- but we can't help running our thoughts wild.