Lazareth is French outfit known for its crazy custom builds, which include a 500 BHP quadbike and a Renault Twingo powered by a V8. However, out of all the custom bike builds we have ever come across, this one is easily the most outlandish of them all. This here is the Lazareth LM 847 custom bike. It comes with a 4.7-litre V8 borrowed from Maserati strapped to a leaning quad chassis. This isn't the fist time someone has made a bike with a car's engine. There's the Boss Hoss, which comes with a 5.7-litre Chevrolet V8, and many years back Dodge showcased the Tomahawk that was powered by the Viper's V10. The Lazareth LM 847 custom bike debuted in Geneva earlier this year and here, in this post, we take a closer look at what this 'thing' is all about.
Also See – Custom Harley Davidson Street 750
First up, the engine. This 4.7-litre V8 has been borrowed from Maserati and was used in the Quattroporte and the Alfa Romeo 8C Competizione. This unit is good for a massive 470 BHP of peak power and 620 Nm of max. torque. The Lazareth LM 847 custom bike is 2650 mm long, 900 mm wide and 1000 mm in height. It weighs in at around 400 kg.
The leaning quad setup looks pretty similar to the Yamaha Tesseract concept and the tail has been lifted straight off a Ducati 1299 Panigale. Up front, you get a very alien-ish looking face and the bike can easily pass off as a Decepticon from the Transformers franchise.
Also See – Lorenzo Signs Two-Year Deal with Ducati
Lazareth LM 847 Custom Bike Specifications
Dimensions (LengthxWidthxHeight)
2650 x 900 x 1000 mm
Weight
400 kg
Engine Displacement
4.8 L Maserati V8
Power
470 hp @ 700 rpm
Torque
620 Nm @ 4750 rpm
Transmission
Hydraulic coupler – 1 speed
final Chain transmission
Suspension
TFX Suspension Technology
Brakes
Front – Dual 420mm discs perimeter
Stirrups Nissin 8 pistonsRear – Double 255mm Brembo 4-piston disc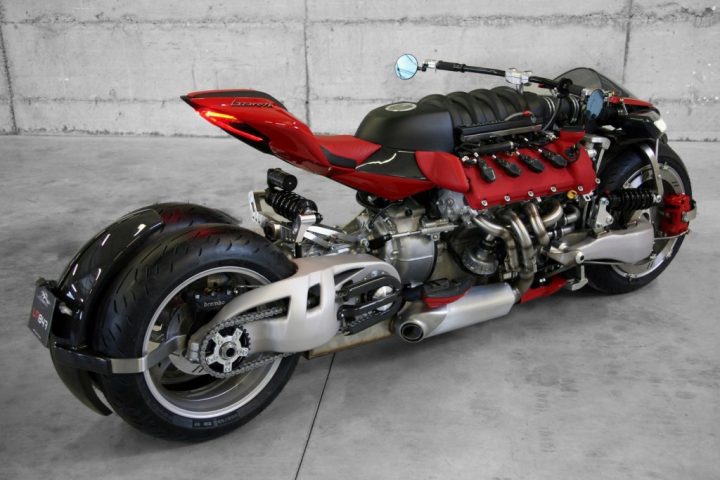 Technically, the Lazareth LM 847 isn't exactly a motorcycle, but more of a quad thanks to the tandem wheels at each end. Whatever this 'thing' is, it is a pretty crazy machine. We're not sure if we would be willing to risk our lives riding one of these, but it is truly and genuinely something to behold.
Lazareth LM 847 custom bike Image Gallery
Stay tuned to Ride Talks for more custom builds like the Lazareth LM 847 custom bike and follow us for the latest news from the world of two wheelers.