Right kind of marketing and promotion can turn any simple name into a brand. Lately, DSK Motor wheels that acquired stake in Hyosung, a Korean motorcycle company, kicked off its own bike owners club named Hy Ryders that was a part of their brand positioning and promotion drill. A group of riders who were natives to Mumbai-Pune was flagged off from Mumbai and Pune simultaneously. The riders dawned on their paths with bikes like GT650 R, GT250 R, ST7 and GT650 N. Approximately sixty five riders participated from both the cities to make the event successful. The drill commenced in early hours of Sunday when all the riders left from their respective cities for their destinations. The final destination was the Nature trail in Khopoli, a forest area in middle of Pune and Mumbai. Several exploratory team activities like flying fox, rock climbing were organized to indulge the participants. This event was first of its kind organized by DSK Motorwheels and was quite successful. The participants seemed quite contented and happy with all the arrangements.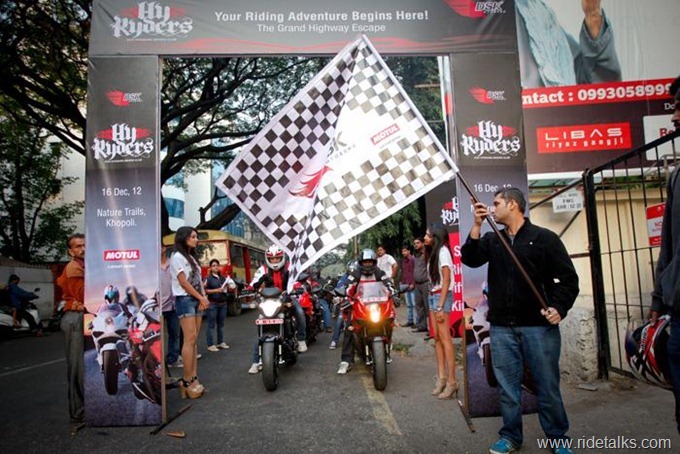 DSK as the organizer, gave several guidelines for the participants that had to be strictly followed by each mate.All these guidelines required the riders to maintain discipline, follow the escort vehicle consistently, make a team of two for each group, take special care of safety and traffic related issues on highway. There were arrangements for refreshments at several points in between.
Considering the success of this event, the organizers are planning to organize more of such events in other Indian cities in upcoming months. According to DSK, such events provide motorcyclists a break from their hectic schedules and helps discovering the hidden rider in them. It also provides them with an ideal opportunity to interact with like-minded people and discover new paths along picturesque and scenic locations. One such similar event is currently in line for Bangalore.
Hyosung was previously a Korean motorcycle company that was recently taken over by S&T motors. It has been providing middleweight motorcycles in India in association with Garware Motors. DSKs' work is spread out in several sectors like real estate, education, leisure, etc. It dawned into automobile sector in 2008.