Harley Davidson is a new brand in India with not many owners as of now, though the number of prospective buyers is high. Since the introduction of the brand in India, we hardly heard any news about Harley Davidson until the INK IT Tattoo Convention was held in the city of Kolkata, Bengal (India). Harley Davidson Owners Group a.k.a H.O.G attended the convention and became their motorcycles became the center of attraction.
What we hear next is that 240 Harley owners (members of H.O.G) went for the the first ever ride in the southern region of India. Harley Davidson Group Owners clocked 907200 mins to cover 235730 Kms on their beautiful motorcycles. The ride kick started from Bangalore and H.O.G chapters from Hyderabad, Chennai, Kolkata, Ahmedabad, Delhi, Mumbai and Pune came together for the ride.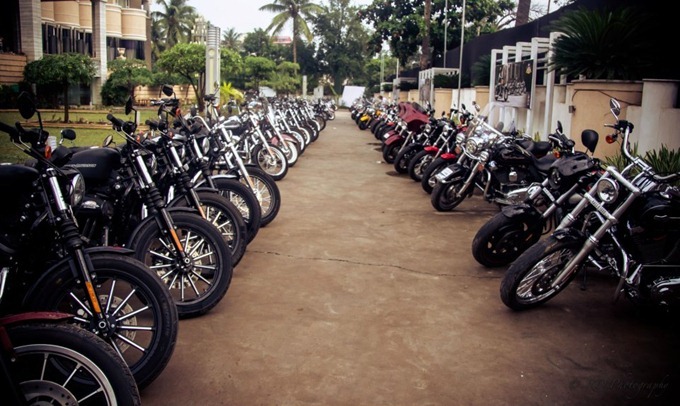 From Bangalore the Harley owners went to Hampi, a historic small town with more than 500 ancient monuments in the state of Karnataka. For the next two days H.O.G members actively participated in various engaging competitions relished music performances.
"Harley-Davidson is redefining the culture of leisure biking in India and our first Southern H.O.G. is testimony of our success in this direction. We are overwhelmed by the response and enthusiasm we have witnessed from H.O.G. chapters across the country and we take pride in sharing this milestone with our customers who thoroughly relished every minute of this journey with us." said Anoop Prakash, Managing Director Harley-Davidson India on the success of the 1st Southern H.O.G ride
The Harley Owners Group (H.O.G) in India encompasses the true spirit of brotherhood and camaraderie, something that Harley-Davidson is renowned for, world over. Local H.O.G rides are conducted at regular intervals, for customers to meet, ride and experience adventure, self-expression and freedom of open roads and the Southern H.O.G ride was the biggest of them all.
It was a beautiful ride not from a brand but a culture that is present in over 120 countries and we wish, it conducts more such rides.
Stay tuned to Ride Talks by signing up for our Free email newsletter.