The small capacity cruiser from Hyosung, the GV250 is all set for a makeover soon. Seen here are the leaked patent images of the 2016 model which clearly point towards cosmetic as well as mechanical changes that will be carried for 2016 MY Hyosung GV250. The new design gives the cruiser a slimmed down look as compared to the current model. It is also expected to get mechanical updates which will enable it to comply with the upcoming European homologation regulations. Scroll down for more images and to read all that's new on the 2016 Hyosung GV250 cruiser. Read on for all the 2016 Hyosung GV250 images and details.
As part of the 2016 update, the GV250 will get a flurry of minor cosmetic upgrades which will give it more toned down look. First up, the headlamp unit now sits lower between the front suspension forks and the turn indicators have been moved up slightly. The apparent slimmed down appearance is accentuated by the narrower mudguards and the fuel tank which gets a more chiselled look. The fork gaiters appear to be new replacing the chrome cover on the front suspension as seen on the outgoing model. The other major upgrade here is the front tyre which has been upgraded to sportier 10-spoke, 19-inch alloys from the earlier version's 16 inch. All these changes give the 2016 MY Hyosung GV250 a more Sportster like appearance.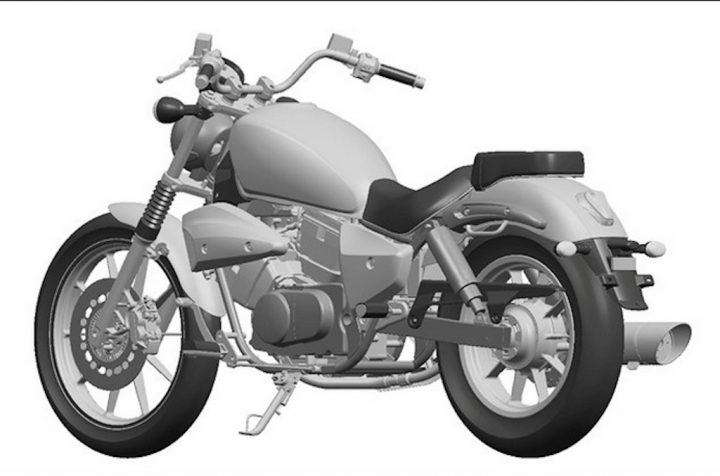 As evident from the patent images, the engine setup powering the Hyosung GV250 is expected to continue unchanged save for a few minor tweaks in order to comply with the Euro IV emission norms. Expect improved power and torque figures along with a marginal increase in efficiency.The current iteration of the cruiser is powered by a 249 cc V-Twin motor which puts out 26.21 bhp of peak power and 22 Nm of peak torque. A significant update to the spec sheet of the GV250 will be the addition of ABS as standard on the Euro-spec version.
The Hyosung GV250 is a smaller cruiser as compared to more traditional models which are usually powered by engines in the 1,000-1,500 cc range. It has been clocking in decent numbers keeping it on sale in Europe and warranting an upgrade to comply with the new European homologation rules set to come in soon. Other cruisers in Hyosung's range include GV650P, GV125C, ST-7 and ST-7D. The current iteration of the GV250 is priced from £3,299.00 in the United Kingdom. There could be slight bump in these prices once the 2016 model hits showrooms, but we do not expect any significant price hike.
via VisorDown