Although the crop of half litre bikes from the stable of Honda have been the centre of attraction for a while now, away from all that, a bike which did not get the hype it deserved was the Honda F6B with the B standing for Bagger. This is the bike you can look at standing in your garage or driveway when you want a calm getaway from the hustle of your daily life. If you need to have a getaway for a day, week, month or till the time you feel like, the Honda F6B will prove to be a more than a worthy partner for your getaway.
The F6B is meant to welcome a younger generation of bike riders to the the Gold Wing brand or the family as you may put it. It is based on the Gold Wing's twin-spar aluminum frame and is powered by a1832cc flat-Six, a SOHC two-valve-per-cylinder heart. Like the standard Gold Wing, the horizontally opposed engine makes the bike feel smaller which shall help the city-riding abilities of the bike in case you can't get away from it.
It weighs 62lbs less than the Gold Wing and the bike makes quite a style statement. It has all your gadgets and gimmicks that you'd find in a car. It gets a glovebox, an audio system with iPod capability to let you hear your favourite songs when you enjoy the scenic beauty away from the urban lands and a display that has a clock, trip meter, air temperature gauge and audio controls for that added peace of mind.
It will go on sale in February 2013 and bike will be available in two colours and two variants. Red and black are the colour options and the variants are Standard and Deluxe. The Standard would cost you $19,999 and the Deluxe shall cost you $20,999. The Deluxe variant gets a passenger backrest, heated grips, a Centre stand and self cancelling turn signals. If I am putting down $19,999 for a standard variant, I might as well put down another grand and get myself those heated grips.
More Pictures: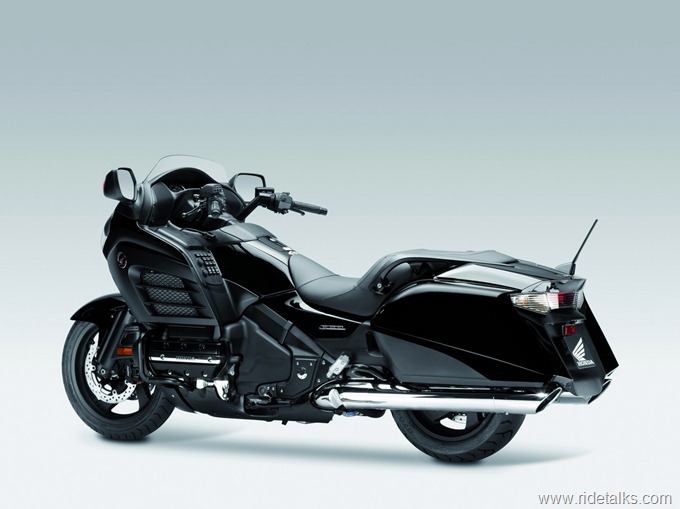 Stay tuned to Ride Talks for more updates.