Ducati has always been known for its Monster line-up and at the 2012 INTEMOT held in Cologne, Germany, the company showcased the 2013 Monster range. The company premiered the Monster 696, Monster 796 and Monster 1100 EVO at the exhibition and also celebrated its 20th anniversary. The International Motor Show seemed to be perfect place to celebrate the 20th anniversary of the Monster range as back in 1992 the company had unveiled the M900 at the same site.
So for 2013, aside from the standard models of the Monster range of motorcycles, Ducati is offering an anniversary edition version of each of them featuring bronze colored highlights reminiscent of the original M900 (the first generation of Monster).
The Anniversary Edition, available for all the three models, comes with the following features:
A steel trellis bronze frame
Gold brake components
Champagne front forks
Gray swignarm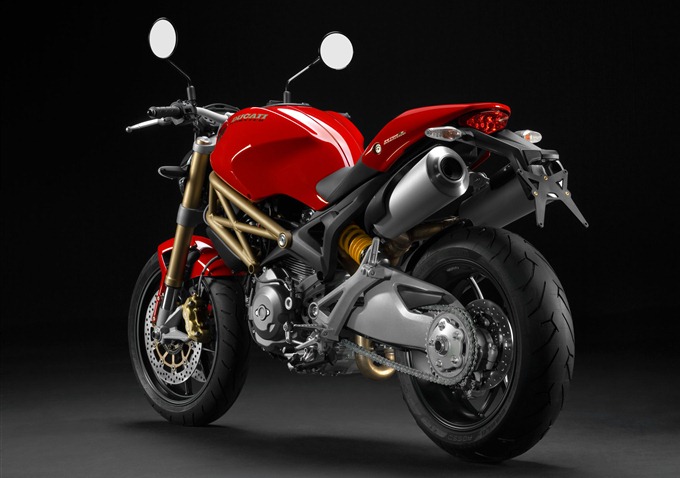 Engine outer casings and lower triple clamp
Chrome headlamp support
90s-styled mirrors and seat fabric
Retro font on the tanks and seat cover
The 696 which is the entry level monster claims to have a power output of 78.9 BHP at 9000 RPM and 50.6 ft-lb. at 7750 RPM. The car weighs 408 pounds wet and is available in Dark Stealth or Stone White colours aside from the anniversary edition.
The 796 is the next model from the 696 and uses a single sided swingarm. It has a claimed output of 85.8 BHP at 8250 RPM and 58 ft-lb. at 6250 RPM. The bike weighs 412 pounds and will be available in Arctic White Silk or Diamond Black Silk as well as the 20th Anniversary version.
The 1100 EVO is the top of the line Monster with a claimed output of 98.6 BHP at 7500 RPM and 76 ft-lb. at 6000 RPM. It features single sided swingarm and side mounted dual exhausts. The 1100 EVO will be available in three color schemes: red with a white stripe, black with a gray stripe and the special matte green diesel edition. The 20th anniversary edition is also available.
The 696 and 796 models come in both with ABS and without ABS versions, while the 1100 EVO is offered with ABS, traction control and Ducati Data Analyzer system as standard. Beside the new color options on the Monster range, all remains unchanged.
More Pictures