Yamaha has been serving the Indian subcontinent for over two decades now and during this time it has faced many ups and downs. With the recent entry level sport bikes such as the R15 (a 150 CC machine from the R family) and FZ16 (a 150 CC machine from the FZ family), the performance graph of the company has risen by an appreciable level and now it wants to maintain this level of growth.
Recently the company launched the first ever scooter in India, the Yamaha Ray and an interesting piece of information regarding the same has come up. As a first of its kind initiative in India, Yamaha has hired 200 women to run its assembly line for scooters.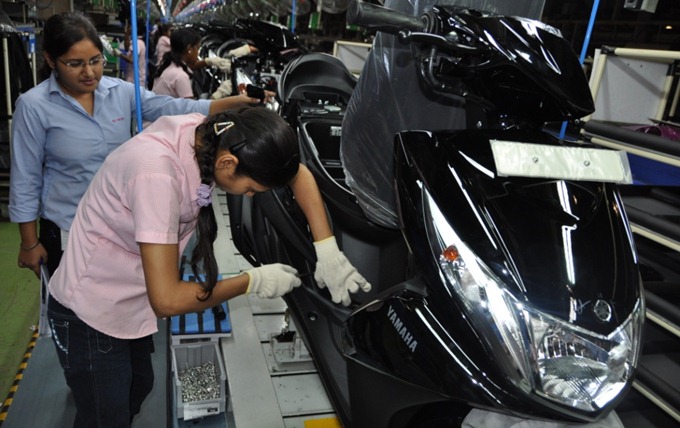 Yamaha India has started a new assembly line for scooters which is run entirely by women employees. This is the first time in India that a company has developed scooters for women assembled by women. This initiative is very unique in itself as Yamaha is not just creating employment for these young recruits but is also providing them classroom as well as on-the-job training.
These girls will undergo an apprenticeship programme approved by the state government which will last for 3 years. At the end of each year, these girls will have to appear for an examination conducted by Industrial Training Institute (ITI) and after the completion of term these girls will receive an ITI certification approved by the Uttar Pradesh state government.
Commenting on the occasion, Mr. Roy Kurian, National Business Head, India Yamaha Motor, said, "This is the first time in Yamaha's history, not only in India but also worldwide, that the company has started an assembly line which is run exclusively by women. Being the pioneers in this movement, Yamaha certainly hopes to see this initiative being replicated across the industry."
Apart from this interesting initiative, Yamaha India has also developed a riding training program for female customers. Called Yamaha Female Riding Training program, the program will be implemented across India very soon and will basically target the young urban women with its recently launched scooter Ray. In fact Yamaha has also expanded its dealer network and specially improved customer care quality for female customers by appointing more female staffs.
Stay tuned for latest updates from Ride Talks by signing up for our Free email newsletter.