Valentino Rossi has denied rumours suggesting that the 7-time MotoGP World Champion was looking at fielding a MotoGP team in 2017. Spanish TV giant Movistar claimed that Rossi and his VR46 squad were looking to fill up the vacant slot in the current MotoGP lineup. He has also stated that their main aim, right now, is to concentrate on the current Moto3 Junior category, in which they're running three bikes, and to kick off their Moto2 campaign next season with one motorcycle. "No. I hear this and I know that MotoGP has one free place. I spoke with Carmelo but for us is impossible, we are not able to make a MotoGP team and not interested also because I think next year together with Sky we arrive in Moto2. We try to make one bike in Moto2. And is enough. It is not true – we do not want to make any MotoGP team."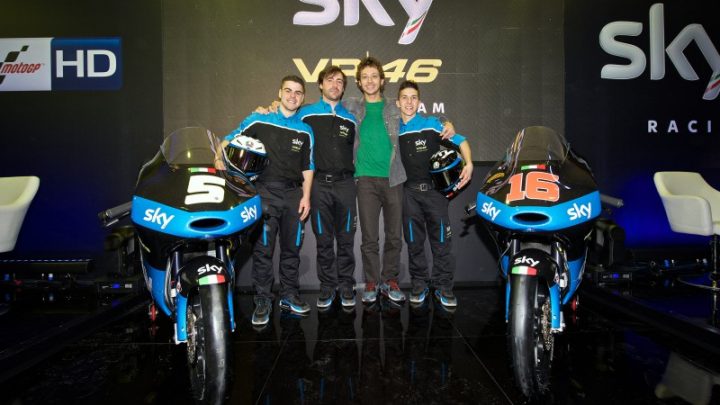 Also See – 2018 Yamaha MT-07 Ténéré Spied!
Team boss Pablo Nieto also denied the rumours stating that their main focus is on providing the best possible tools to the current Moto3 riders and the future Moto2 team. "In the end our project is to make Moto3 and Moto2. Nothing else. This is our project. It's true everybody come to us to try to say if we will make something in MotoGP, but this is not our project at the moment," said Nieto, speaking in the Circuit of the Americas paddock after Moto3 qualifying.
Some reports also suggested that by the time Valentino Rossi retires, might want to enter the premier class with his own team, but Pablo Nieto said, "It's strange, even Valentino he doesn't know. We are talking about something we don't know." Currently, Rossi races for the Yamaha factory team and has already signed a contract extension till the end of next year.
However, it is confirmed the VR46 team will expand to the Moto2 class in 2017 with current Moto3 rider Romano Fenati making the step up in a one-rider team. The choice of chassis is yet to be decided, but KTM could turn out to be one of the leading contenders.
Also See – Yamaha 04GEN Scooter Concept
The IRTA have requested any potential candidates to file an official application before April, 29th for the final position on the premier-class grid.According to reports, two teams have thrown their hat into the mix for the final slot – Lucio Cecchinello (LCR) and Moto2 team boss Sito Pons.
Stay tuned to Ride Talks for more updates on the Valentino Rossi MotoGP team and other news from the world of two wheelers.