Think extreme motorcycles- and you might probably recollect something like a Boss Hoss. Propelled by a Chevy sourced V8 cranking out an outlandish 445 bhp- a 2 speed semi automatic transmission at the helm, the motorcycle is more like a gymnasium on two wheels. So for enthusiasts who sought a similar level of insanity in a motorcycle to go with performance- Maltec Performance Engineering from Australia has the answer. Say hello to the PGM V8!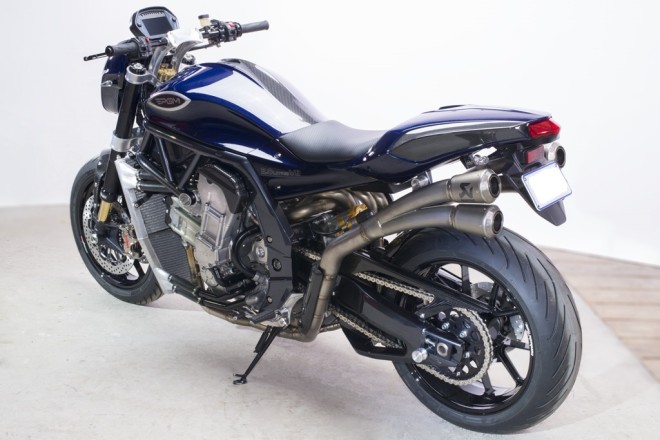 As the name suggests, the PGM V8 packs in a liquid cooled 1996cc V8 at a 90 degree placement with enough compression to dish out a staggering 334 bhp @ 12800 rpm with peak torque numbers reading 214 nm @ 9500 rpm. Electronics and hardware on the PGM V8 reek of specifications from the world of motorsports. From the 8 x 45mm Mikuni Drive-By-Wire throttle bodies that fuel the 8 barrels of the PGM V8 to the Motec M130 engine management system- every component has been designed for outright performance.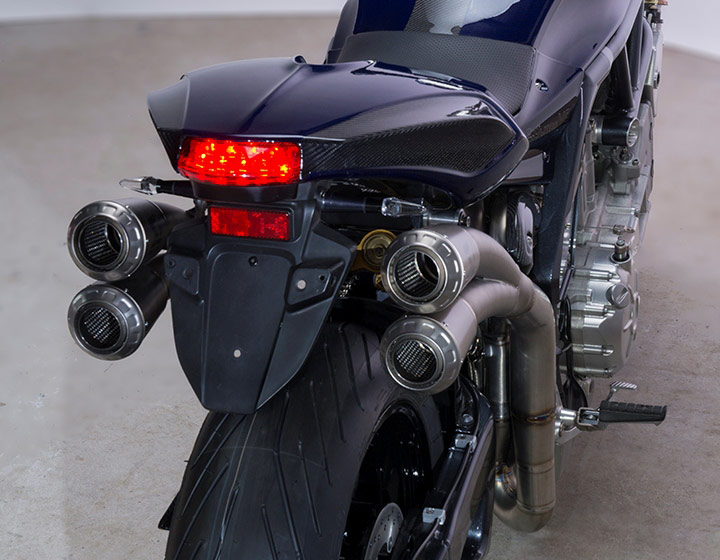 The bodywork is crafted carbon fibre for weight saving and at the same time for rigidity and durability. The 2 x 4-2-1 titanium exhaust system is custom made by Akrapovic and PGM also has a handmade MotoGP style free flow exhaust that is claimed to howl like an F1 V8 from the 70s. Suspension comes from Ohlins, wheels from Marchesini and brakes from Brembo- exact details have been put up in the spec chart at the end.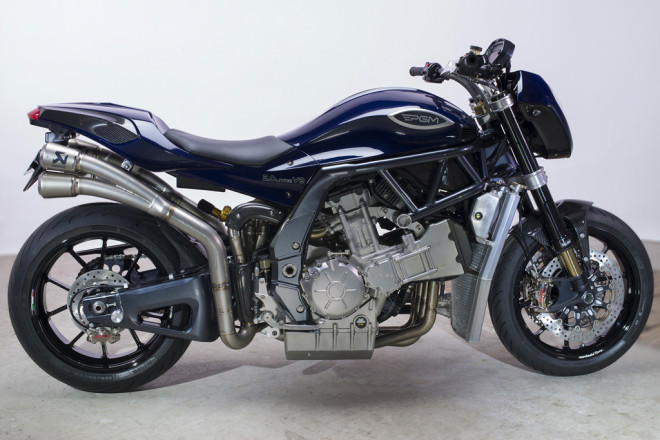 The aluminium crank cases have been sand cast, shot peened and heat treated for durability, strength and corrosion resistance. Also the flat plane crankshaft has been machined out of a single block of En36 steel with heat nitrite treatment before the grinding and balancing process.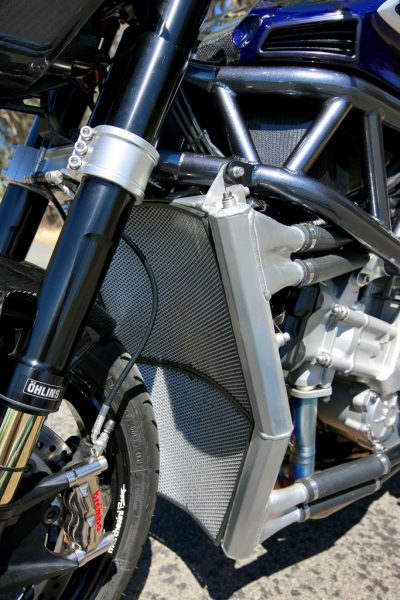 The huge radiator reminisces the units on the MotoGP machines and ensure enough cooling for the 2.0 litre V8 under performance riding. All the performance related numbers are displayed on the cockpit comprising of a high resolution full colour dash from Motec with graphics imparting a visual racy appeal.
The top speed curiosity of the 242 kg motorcycle has been met with a statement on the spec sheet which says "How brave are you?" And people who would dismiss the PGM V8 as another show off machinery with exotic hardware, famed moto-journalist Alan Cathcart says "Well – it's not often that I'm left speechless – it is literally a 'super' bike in every sense. It is an incredible motorcycle".
PGM V8 TECHNICAL SPECIFICATIONS
Engine
Configuration:
90 degree V8
Capacity:
1996cc
Bore/stroke:
77 x 54mm
Compression ratio:
13:01
Cylinder Head:
DOHC, five valves per cylinder
Cooling:
Liquid
Fuelling:
8 x 45mm Mikuni Drive-By-Wire throttle bodies
Engine Management:
Motec M130 ECU and software.
Power:
[email protected] 12,800rpm (At the countershaft sprocket)
Torque:
214Nm @ 9,500rpm (At the countershaft sprocket)
Exhaust:
2 x 4-2-1 titanium
Transmission
Type:
Six speed sequential gearbox
Clutch:
Wet, multi plate
Final Drive:
Chain (17/45)
Chassis
Rake:
25.5 degrees
Trail:
107mm
Material:
Front – Chrome-moly tube trellis
Rear – CNC machined Aluminium
Suspension
Front:
Ohlins FGRT301 48mm USD forks… fully adjustable
Rear:
Ohlins TTX Mk2 shock, with custom link
Wheels/tyres
Front:
17.0 x 3.50 Marchesini 10 spoke, forged aluminium
120/70ZR-17 Michelin Pilot Power 3
Rear:
17.0 x 6.00 Marchesini 10 spoke, forged aluminium
190/50ZR-17 Michelin Pilot Power 3
Brakes
Front:
Brembo GP4 Nickel plated calipers on 320mm discs
Rear:
Brembo P4-34 Nickel plated caliper on 220mm disc
Dimensions
Weight:
242kgs wet with fuel, water and lubricants
Weight bias
51/49 front to rear static
Seat height:
840mm
Wheelbase:
1540mm
Fuel capacity:
16.5litres
Performance
Top speed:
How brave are you?
PGM V8 IMAGE GALLERY