Who doesn't love KTM Duke 200 ? It is an entry level yet extremely potent motorcycle that has proved itself over time. The KTM brand has been existing in the global market for quite some time now and has offering great products for daily use as well as hardcore racing. For India, which is still in its emerging stages, motorcycles like the Duke 200 and Ninja were absent a while ago, and it was recently when such manufacturers planned to enter this very part of the globe.
KTM entered India a few months ago and since then the sales performance of the manufacturer has been overwhelming, though as of now it only offers KTM Duke 200. The latest news is that KTM has officially homologated the Duke 200 with FMSCI (Federation of Motorsport Clubs of India).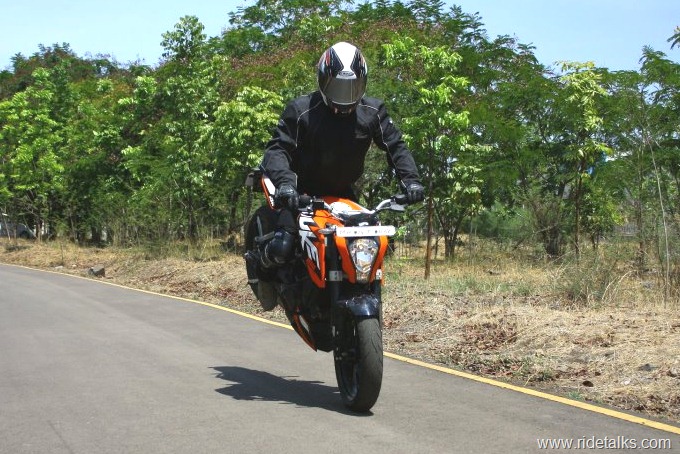 With the success of this homologation, now any Duke 200 owner can use its motorcycle for racing or rallying. Earlier the motorcycle had made its debut in Mughal Road Rally held in this June, and the homologation comes just before the Raid De Himalayas, one of the toughest and most prestigious rallies in the world. In its debut rally, the Mughal Road Rally, Duke 200 secured the first place and we are expecting it to perform equally well in Raid De Himalayas.
Considering the phenomenal heritage that KTM has in motorsport, it was very much certain that at some point or the other Bajaj, KTM's Indian partner, will apply for a homologation and we are glad it did it sooner. For sure this will open new avenues for motorsport enthusiasts in India and also help Bajaj establish KTM in the country.
Honda and Yamaha already run their respective one-make racing series in India, however will KTM do the same, remains to be seen. The Duke 200 is a very potent machine and it would be interesting to see how wisely KTM uses it.
Also Read – KTM Duke 200 Launched In UK
Stay tuned for more updates from Ride Talks by signing up for our free email newsletter.