Remember Arch Motorcycles? It is the company by actor Keanu Reeves that makes performance cruiser motorcycles. Its first bike is the KRGT-1. Suter Industries is well-known in the world of racing for its engineering and products. In operation since 1996, Suter Industries has three consecutive Moto2 World Championships to its name from 2010 – 2012. To ensure the process of bringing Suter to USA is smooth, Arch Motorcycles has created a new division – Suter North America – which will take care of Suter's operations in the country. Here's all you need to know about Arch Motorcycles To Sell Suter race bikes in USA.
Arch Motorcycles To Sell Suter Race Bikes In USA
What's It All About?
First off, the deal between Arch Motorcycles and Suter Industries is not just about the latter selling bikes in USA. It is also about Suter selling Arch Motorcycles' products in Europe. Now, the American company has just one bike named the KRGT-1 as of today. Suter will make a Euro-4-compliant version of the same and also help Arch Motorcycles in developing future products. The bit about this development that has some folks buzzing is that Suter is into making race bikes while Arch Motorcycles makes cruisers. The partnership will help Arch Motorcycles to explore the high-performance sport bike segment with Suter. Who knows we might get to see a two-stroke engine in production after such a long time…
Also Read: USA's First Ducati 1299 Superlegerra Delivered
What Does Suter Industries Make?
Suter Industries is into the business of making race prototypes. Its product, the MMX500, is well-known among track racing enthusiasts. The MMX500 has a 500cc two-stroke motor onboard. Apart from the MMX500, Suter also makes MMX1, MMX2 and MMX3 prototype racing bikes. The MMX1 is a MotoGP-class 1000cc prototype race bike. The MMX2 is a 600cc track-only bike. The MMX3 is a bike developed for Moto 3 World Championship.
What Does Arch Motorcycles Make?
Currently, Arch Motorcycles makes the KRGT-1 performance cruiser motorcycle. Designed as a solo riding machine, this bike has a Arch-proprietary 2,032cc fuel-injected V-Twin engine paired to the company's own 6-speed gearbox. Suspension duties all around are handled by Ohlins units which are fully adjustable. Braking is taken care of by ISR disc brakes, two up front and one at the back. Arch's own tubular steel frame forms the base of this bike and the dual-sided aluminium swingarm has titanium axle adjusters. Other notable bits on the bike include a lithium-ion battery LED lighting all-around, carbon fibre wheels and a dry weight of 244kg.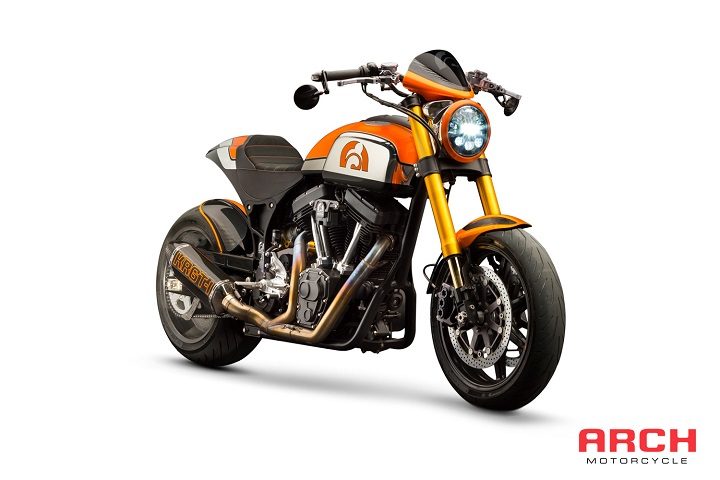 Arch Motorcycles To Sell Suter Race Bikes In USA – Conclusion
It is great news to see Suter finally coming to USA. With a number of race tracks across the country and not many race bikes to choose from, riders usually make use of their daily drivers on the track to have fun. Now, not just these folks but also those who prefer to ride a motorcycle around a race track will have an option to buy a track-only bike from Suter.
The price of Suter bikes may be on the higher side, but you will not have to change the bike much for use on the track, which is where you save some cash. However, do invest in a pick-up truck to ensure you can take your Suter bike to track and back. A little thing to note here is that if you are a Marc Marquez fan, then MMX2 is the bike you should buy. In 2012, Marc won the Moto2 World Championship for Suter on this bike. Plus, you will be among the few ones on the track with a modern two-stroke bike. Won't that be cool?