Hyosung, the Koran company owned by S&T Group today launched one of its most compelling 250CC Sports Bike in the capital city of New Delhi, India (Asia) – the Hyosung GT250R. The GT250R is a well acclaimed 250 CC Twin Cylinder sports bike with sporty looks, full faring and stunning looks. The motorcycle delivers a peak power of 28 BHP @ 10000 RPM and peak torque of 22.07 Nm @ 8000 RPM. The engine is liquid cooled and rev-happy and is mated to a 5 speed constant mesh manual transmission gearbox. The engine is Fuel Injected and is truly the soul of this machine. The fuel economy of the GT250R as per ARAI (automobile agency in India) is about 25 KMPL or 4 Litres for every 100 Km. The Hyosung GT250R is priced at Rs. 2.75 Lakhs which is about USD $5000.
Hyosung GT250R Walk Around Video Review
Hyosung GT250R Features and Initial Impressions
Talking of some more features and specifications of the GT250R, it is 2090 mm long, 700 mm wide and 1130 mm high. It has a large wheelbase of 1435mm and weighs 188 Kg. It looks quite large and aggressive with sheer size and strong road-presence.
It features inverted telescopic suspension at front and a progressive linkage hydraulic monoshock suspension at the rear. There are racing inspired large dual disk brakes as front with dual pot floating brake calipers on each side of the front wheel and a smaller disk at the rear with dual piston calipers. It rides on chunky rubber with 110/70 R17 section tyres on the front and meatier 150/70 R17 tubeless radials at the rear. The 5 spoke blackened alloys give a nice, subtle but sporty appeal to the GT250R.
Large dual projector headlamps at front make it look distinct from the crowd and makes its stand out in terms of looks. There is a clear visor just above the headlamps and Hyosung branding in it.
It uses sharp styling at front with sharp lines in the faring, pointed rear view mirror design, edgy lines on the faring, fuel tank, side panels as well as rear of the motorcycle.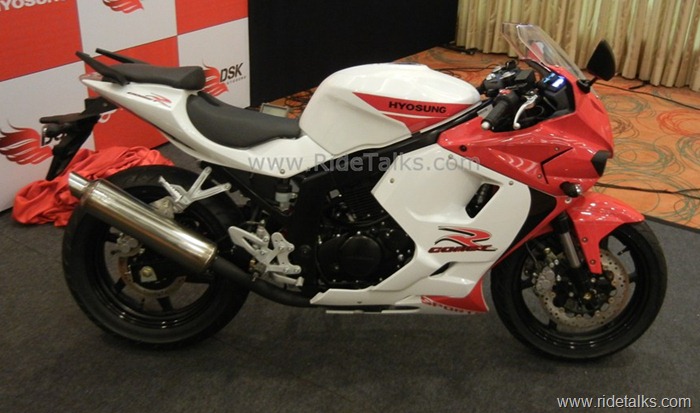 The instrument cluster has a large analogue tachometer, digital Odometer, speedo, trip computer and other multi-information display with adjustable brightness controls. The tachometer redlines close to 10,500 RPM which is just 500 RPMs above the peak power brand. The superbike was unveiled by Mr. Shirish Kulkarni, Director, DSK Motowheels Pvt Ltd. which is manufacturing and marketing the Hyosung bikes in India.
Hyosung Roadmap for India
At the press conference held in New Delhi India, Mr. Shirish Kulkarni, Director, DSK Motowheels Pvt Ltd. revealed some of the key information about the Hyosung Roadmap in India. We share with you all these details in points below:
DSK is developing Indian manufacturing facility for Hyosung motorcycles in India near Pune, Maharashtra
The DSK Facility will include R&D center, Assembly shop and Paint shop in first phase
DSK Hyosung motorcycles facility will be operational by 2014
The production capacity of the DSK facility will be 100,000 units per year
GT250R is 4th product in Hyosung India portfolio as it already has other Motorcycles which are – GT 650R, ST7 and GT650 Naked in India
By 2014, Hyosung will launch two more products GV650 and another 650 CC Cruiser Motorcycle making the total count to 6 products
By 2015, Hyosung will launch a 150CC India specific commuter Motorcycle which maybe exported from India to ASEAN and European markets
By 2016, Hyosung will add another India specific 125 CC commuter segment motorcycle which is being designed in India making the total count 8 by 2016
For developing the manufacturing facility in India, DSK will spend close to 600 Crore INR (6 Billion India Rupees or 110 Million US Dollars)
DSK will raise about 40% capital for the project internally and will borrow the remaining from some Banks in India. It will not raise funds by any public listing or IPO
DSK has launched new dealership in New Delhi India on September 11, 2012 making it a total of 19 dealerships across India. It will make this count 30 by the end of March 2013
DSK will increase localization and local manufacturing of Hyosung Motorcycles in India which will bring down the cost of Hyosung motorcycles in India in next 5 years
Hyosung expects to manufacture and sell about 80,000 units (80% of total capacity) of commuter motorcycles in 150 and 125 CC segment by the end of 2016
Hyosung is looking to promote its products in India by associating with come cricket series which are hugely popular in India
Hyosung will also make their products participate in rallies and motorsports events in India
Hyosung is planning for a cross country ride in India with some riders to promote its products in India
Hyosung will not launch any 250 CC Naked bike in India as that product may cannibalize the sales of the 150 CC commuter bike planed for 2015
Exclusive Pictures of Hyosung GT250R
We leave you with some pictures of the GT250R as a treat for your eyes: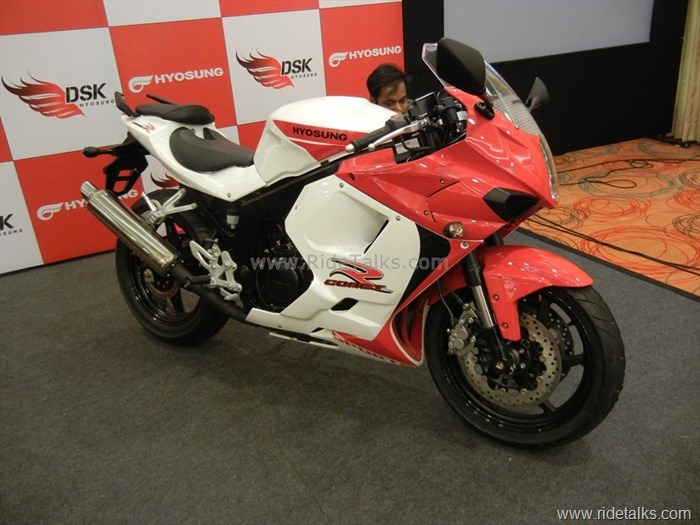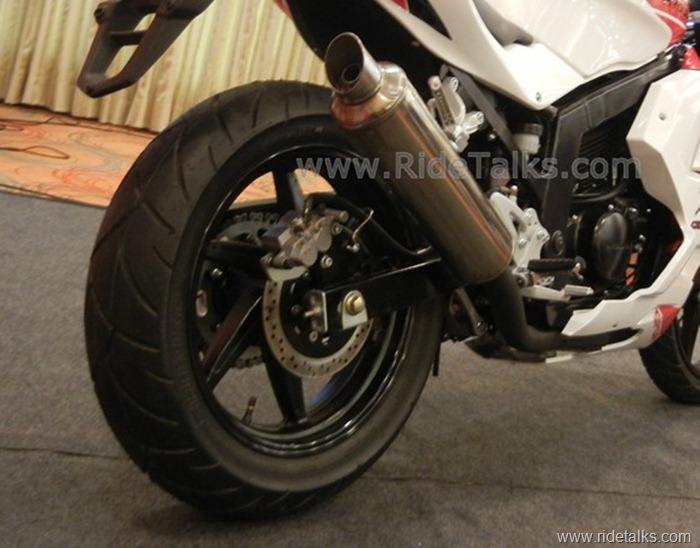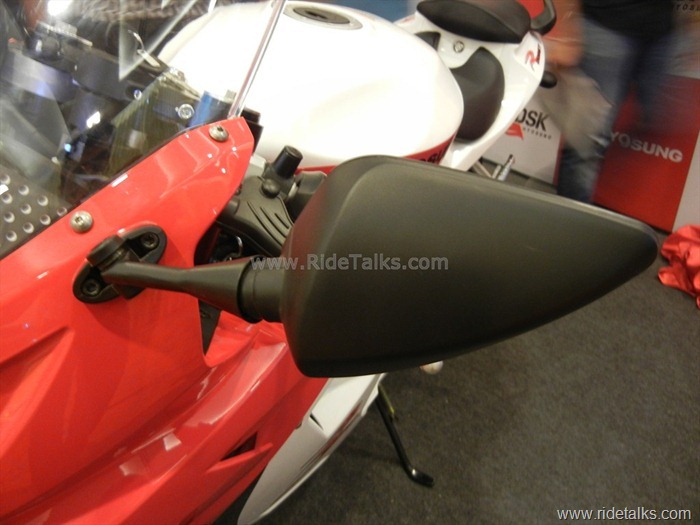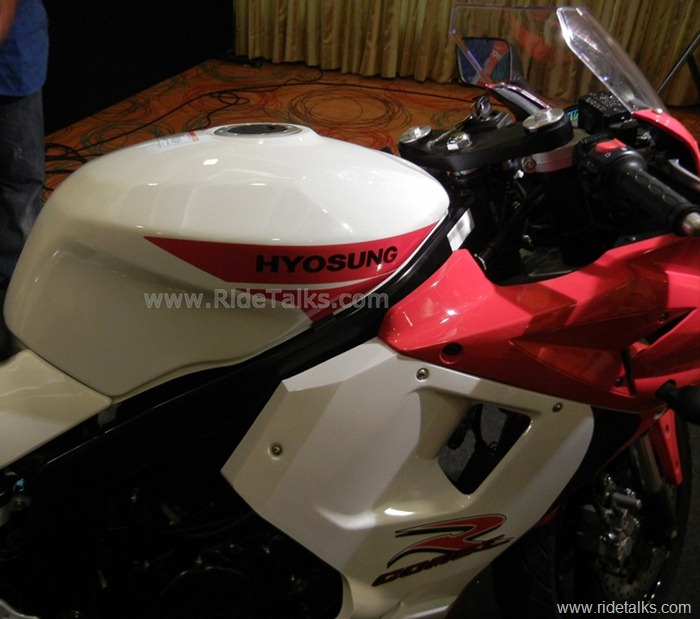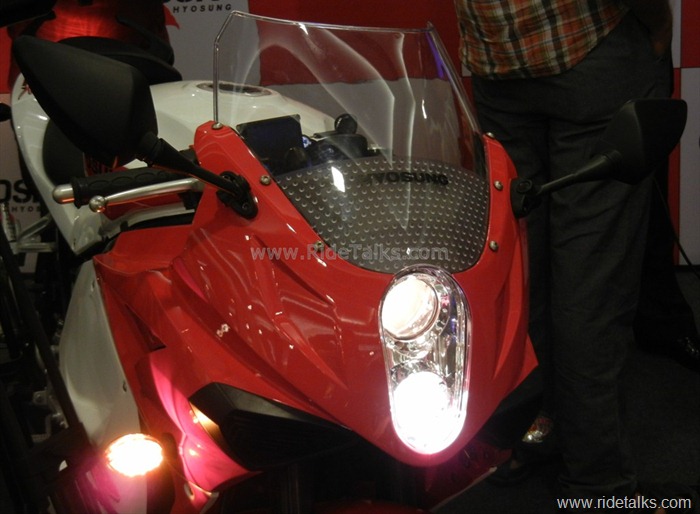 Get more details on Hyosung Motorcycles delivered to your email inbox for free by signing up for our free email newsletter.