Yesterday we had a detailed news on the 2013 iteration of Kawasaki KX250 motocross bike. The bike is nice and was acclaimed by all the riders and journalists. In competition with Kawasaki ZX250 is Suzuki's RM-Z motocross series consisting of RM-Z250 and RM-Z450. Since the KX250 is already out and getting attention, Suzuki has also announced the 2013 RM-Z450 and RM-Z250.
Not so surprisingly, Suzuki has announced a number of changes that include more power and enhanced handling. Suzuki's engineers are sincerely improving their motocross line-up and Suzuki's factory riders including Clement Desalle and James Stewart are always there to give direct feedback on the performance of the bikes. This eventually will help Suzuki customers as they will get the best they can expect, all because of the direct feedback from AMA and World MX factory race stars and hard work of the engineers.
image – 2012 Suzuki RM-Z450
Videos Of 2012 Suzuki RM-Z250 & 2012 Suzuki RM-Z450
Of the two models, Suzuki has been focusing more on RM-Z450's engine which gets a number of changes including a redesigned, 13 % lighter piston engineered through Finite Elements Method(FEM) analysis, a reshaped connecting rod which is lighter than before, a shorter Diamond like Carbon Coated pin etc. All the above joined together enable a faster throttle response and with better bottom to mid-range power output.
image – 2012 Suzuki RM-Z450 side
Coming to RM-Z250, this race proven motorcycle also features a 3 % reduction in piston weight, thinner skirts and a shorter piston pin, enhancing its power output. While the RM-Z250 gets an all new 5 speed transmission, the RM-Z450 benefits from a more precise and smoother shifting transmission.
image – 2012 Suzuki RM-Z250
As a common feature both the bikes will be using Showa's Separate Function Fork (SFF) fork which is the same suspension that is installed in the Kawasaki ZX250. The suspension separates the damping and shock absorption work to each fork thereby delivering improved damping and better control. Suzuki's version of SFF features 48 mm dia inner tubes as compared to the previous 47 mm, enhancing the stability and absorption. Adjustable spring pre-load with a wide range of adjustment is another highlight.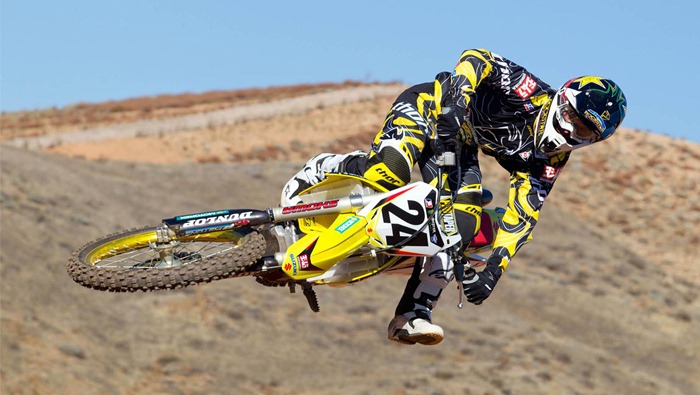 Engineers have also revised the shape and construction of the frame and have increased the rear end chassis performance. As of now no pricing details are available but we expect the bikes to hit the showrooms in September 2012. Stay tuned for more updates by signing up for our free email newsletter.