There are always plenty of rumors about automobile manufacturers but only a handful of them turn out to be interesting enough. Kawasaki which recently unveiled the Ninja 300 (the elder sibling of Ninja 250R) is surrounded by an interesting news, that too regarding the Kawasaki Ninja 300. For a while now, it was being said that Kawasaki is developing a less powerful naked than the Z800 but unfortunately there was no evidence to prove it.
As a surprise, an Indonesian blog has turned up with a leaked drawing of Kawasaki's forthcoming a Kawasaki Ninja 300 Naked Motorcycle which is expected to be based on Ninja 300.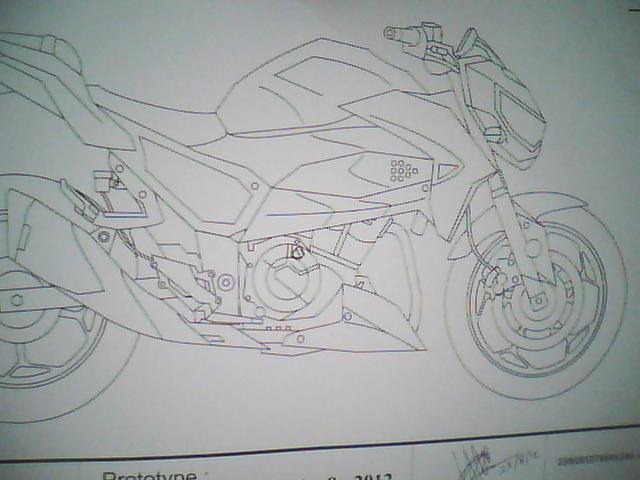 In the drawing the motorcycle is named ER250C which suggests it could be offered alongside the parallel twin ER6 and thus be called as ER3. Having said that, the styling does not match much and is in more in line with the Z800 and Z1000 models, so being called a Z300 is more sensible. So essentially it could be apart of the Naked bike line-up, as the Ninja 300 is to the ZX-6R and ZX-10R sportbike lineup.
Another very interesting possibility could be the name J300 because a while back Kawasaki applied for a trademark on that name to use it on a yet to be released motorcycle.
At first look it may appear similar to the Z series of motorcycles, a closer inspection tells a different story though. The drawing tells that the engine, suspension, frame and wheels are the same as Ninja 300 or 250, but the styling is quite different. Besides the new front fairing, other unique features that we see is a new fuel tank, new seat unit and a new exhaust.
There is always a possibility of this drawing being unofficial, but the source of the picture, TMCblog, has presented other documents referring to the ER250C. Moreover Kawasaki has potent manufacturing facilities in Indonesia, Thailand and Philippines, indicating a great possibility that this bike could be built in that particular region of the globe.
Source – TMCblog