Bajaj Auto is one of the leading two wheeler, motorcycle and commercial vehicles maker from India. Bajaj also has a strong presence in Africa apart form India. Austrian motorcycle maker, KTM also has strong collaboration with Bajaj wherein some of the popular KTM Motorcycles are manufactured at Bajaj Plants in India and exported world over. Few months back, Bajaj introduces its newest generation of Bajaj Pulsar series called the Bajaj Pulsar 200 NS (Naked Sports). The Pulsar 200 NS is one of the most advanced performance motorcycle from Bajaj Auto's stable with some solid specs and features.
We tested the new Bajaj Pulsar 200 NS last week and drove it in city stop-and-go traffic, highways and empty stretches of road and did some sprints and braking tests. We also took it on bad and broken roads to check how the Pulsar 200 NS fares under these condition. In this post, we share with your our detailed and long term Road Test Ride Review of Bajaj Pulsar 200 NS.We also have a video of the tests which we share with you in the sections below.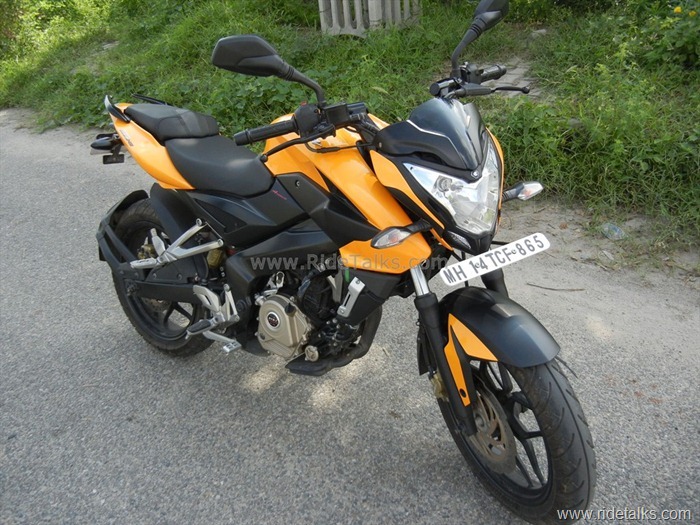 Test Ride And Review Video
Appearance And Design Elements
We tested the Mustard yellow vibrant colour of the Pulsar 200 NS and it does without saying that it a head turner on Indian roads. Whenever we rode past other riders around the Delhi roads, they did turn their heads back to look at us. Some also asked us questions about the price, specs, mileage and performance when we stopped at the traffic signal. We got many compliments and many riders were curiously looking for the exhaust muffler or silencer as its not on the sides like mort other motorcycles.
Talking of the appearance and styling, the Pulsar 200 NS does resemble Duke in some ways, but carries forward the aggressive looking Pulsar heritage along with it. The fuel tank is the most pronounced area of the motorcycle with large silver Pulsar branding protruded which makes it look very upmarket. Very neat and finely finished fuel tank lid in aluminium finish adds to the appeal of the tank. The tank has some extra elements moving towards the front giving it very dynamic look. The Slit seat design looks attractive and dual split grab rails looks like horns of a bull.
The side panels are also designed in the same sharp way and the sharp lines styling is quite visible all around right front the front to rear. The dual tone black and body coloured theme gives it a very sporty look. The rear section has a small element between the body panel and license plate which is also in metallic finish and looks quite sporty with the rear turn indicators coming out of it. The tail lamps are LED lit and split in two sections. There are quite large scoops around the tank to make the rider fit his thighs and knees on the motorcycle quite comfortably.
The centrally mounted monoshock suspension at the rear frees up a lot of space between the rear wheel and the bottom of the body panels. Add to it the wheel huggers at the rear wheel and it does make the combination look very appealing. The foot-pegs are metallic and are made out of aluminum based alloy which not only makes it light, but also very neat. The black alloy wheels with chunky wheels look quite good and add to the overall premiumness factor of the Pulsar 200 NS.
Clear lens headlamps have very Duke inspired looks with two small city lights just below the main head lamp which looks very attractive. The front turn indicators are places very close to the head lamps and are again quite sharp in styling.
The under-belly exhaust, which we don't see in many motorcycles in India, makes the side looks even more spacious and sporty and in fact it is not easily visible or noticeable. A rider asked me on the road where is the exhaust muffler when he count not locate it.
Overall, when it comes to looks, Pulsar 200 NS is clearly the best among all the Pulsar generation so far as it looks quite sophisticated and sharp with leaner and meaner design.
Features And Specifications
The Pulsar 200 NS is powered by a single cylinder liquid cooled 200 CC engine. The engine is quite refined when compared to the previous generation of Pulsar's engines, but still there is a scope for the improvement in the refinement levels. It delivers a peak power of 23.5 PS @ 9500 RPM and peak torque of 18.3 Nm @ 8000 RPM.
It uses a carburettor for fuel supply so its not as responsive at the lower RPMs as it could have been with a more precise fuel injected units on the Duke 200, still the power delivery is quite good.
At rear, it uses a monoshock suspension mounted in the middle which is tuned to be stiff and give a sporty handling which is one of the strong area of Pulsar 200 NS. The rectangular box swing arms help with the rigidity of the frame and improves handling.
Front of the Pulsar gets a telescopic suspension with 37 mm dia which plenty of travel for a comfortable ride.
The instrument cluster has a large analogue tachometer with digital speedo and trip meter with integrated clock display and trip meter. There are some warning lamps, digital fuel gauge, and a blue illuminated Bajaj logo on the instrument cluster giving it a premium look.
Talking a bit more about numbers, it uses 100/80 section R17 alloy wheel at front and chunkier 130/70 R17 at rear. Had large 280 mm petal disk brake at front with dual pot calipers and 230 mm dia disk brake at rear. During our tests, we were able to get it from 0 to 100 KMPH in close to 12 seconds.
Handling, Performance And Braking
Without any doubt, the Pulsar 200 NS is the best handling motorcycle yet from Bajaj India with well sorted suspension, stiffly tuned shock absorbers for high speeds and corners, well weighted handlebar and confidence inspiring handling.
The Pulsar 200 NS handles very well at high speeds, corners and during quick turns and maneuvers. But while the stiff suspension does do its magic on high speed and nice roads, it also passes on bumps to the rider when on bad roads at slow speeds. Also since the peak torque and power is higher in the rev band, the bike needs to be revved up beyond 4000 RPM to get some quick punch from it. So if you are driving in a congested traffic, you may find it troublesome as you may need very frequent gearshifts to keep the bike in good power range. The clutch also requires some effort and may be tiring on a congested road where you need to use it frequently.
Talking of the acceleration, the Pulsar 200 NS does impress us with very agile 0 to 60 KMPH times in under 5 seconds. You can zip though the small spaces with ease in lower gears and it makes the rider feel really empowered. You can zap though the traffic especially the start from stand still is very impressive.
Talking of braking, did you notice the smoke at the contact of the rear tyre in the below picture? It it does brake very well, but with great power comes great responsibility, which applied to the Pulsar 200 NS as well. Since the Motorcycle is quite powerful and agile, the brakes are also equally effective and very responsive, so you should get a hang of how much brake pressure you need to apply for a safe braking. The reason I say so is that there is no ABS option on the Pulsar 200 NS, so if you are applying brakes too hard, it may land you in trouble. However, we find the brakes on the Pulsar to be very effective with the good grip provided by the chunky tyres.
In summary, power is good, torque impressive, acceleration very good, handling is very well sorted, brakes are powerful, ride is slightly bumpy on bad roads, but suspension does really well at high speed. Cornering and handling is excellent with great power delivery in higher rev bands. There is slight vibration beyond 6000 RPM, but it quite acceptable. However one down side of the high power rev band is frequent gearshift in city speeds and passing of the bumps to the rider. In totality, the Pulsar 200 NS is perfect for highway cruising, high speed rides and on good empty stretches on the roads while it may be little stressful for daily city drives in traffic jams.
Strong Points Of Bajaj Pulsar 200 NS
Sharp handling
Quick acceleration
Very stable at high speeds
Confident inspiring at corners
Beautiful aesthetics
Sporty features
Good build quality
Decent fuel economy (35 to 40 KMPL)
Comfortable seating
Refined engine
The recess on the fuel tank is great as it seamlessly fits the rider's thighs arounds around the tank making the ride aerodynamic and comfortable
Weak Points of Bajaj Pulsar 200 NS
Stiff suspension feel uncomfortable on bad roads
Quick gearshifts needed in congested city traffic, not an everyday commuter
Engine vibrations increase on higher engine speeds
No ABS (not even optional)
No Fuel injection
Handlebar and bike feels heavy at lower speeds
Large turning radius
Conclusion – Bajaj Pulsar 200 NS Review
Bajaj Pulsar 200 NS is a great buy in its budget under Rs. 1 Lakhs On-Road and probably the best in its segment. It is more suited for people looking for passionate and enthusiastic biking rather than daily commutes in congested traffic as its engine and suspension are more suited for high speed cruising on smooth roads rather than slow speeds and bad roads on city traffic.