Ducatis are everybody's favorite not just because of the fact that they look brilliant but also because they perform excellently. Especially the 'S' models on the 1198 and Panigale line-up offer unmatched performance for track days but there is actually a better breed of Ducatis which is emerging gradually.
We are talking about the 'R' breed of bikes which are closest to the pure-breed race machines in terms of performance. The last true 'R' model to arrive in the market was the 1198 R Corse, which was was sold for close to $40,000 (I know it is a massive amount). The high pricing brought styling upgrades, a race kit with titanium engine parts, a titanium exhaust, and other parts to reduce weight, to the 1198 Corse R.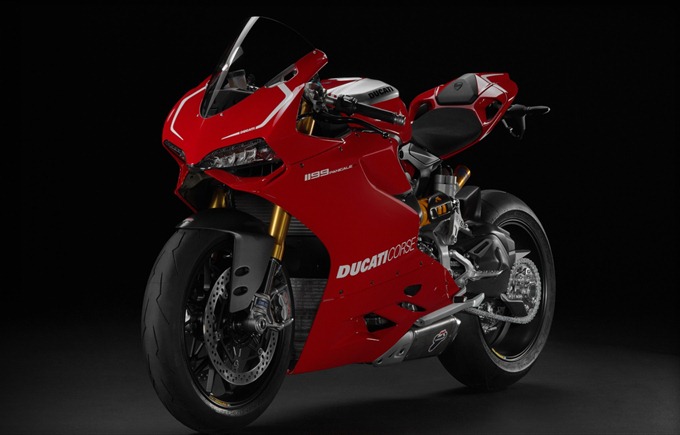 Now when Ducati unveiled the 1199 Panigale for the model year 2012, we were expecting the same to offer a 'R' version of the same, though it di not happen. But for the model year 2013, Ducati brings the 1199 Panigale R to the line-up. The 1199 Panigale R is essentially an 'S' model with a host of race specific enhancements and they include a three percent increase in power, a four point adjustable swingarm, a lightweight body and much more.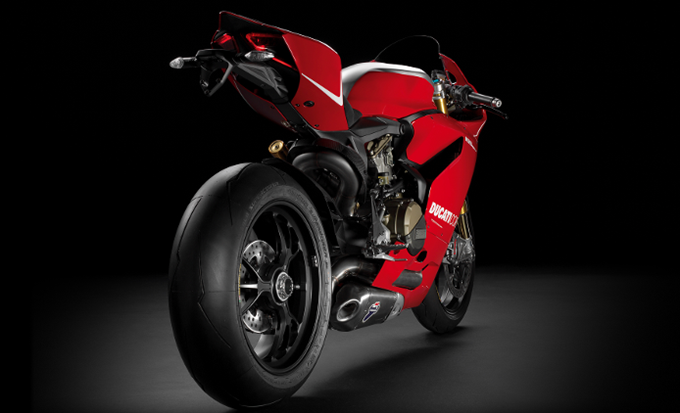 As expected, to reduce the weight of the R model, Ducati has used titanium connecting rods and a lighter crankshaft flywheel for 1199's Superquadro Desmodromic engine. These together account for a weight reduction of close to 3 lbs. The engine also receives DLC-coated rocker arms and revised engine mapping, which now allow the engine to rev to 12,000 RPM (500 RPM higher than other 1199 models).
Enhancing the performance is Ducati's race kit which consists of a full Termignoni exhaust system and dedicated ECU, for track use only. The system helps produce three percent more power in the top range, and 15 percent more in the mid range.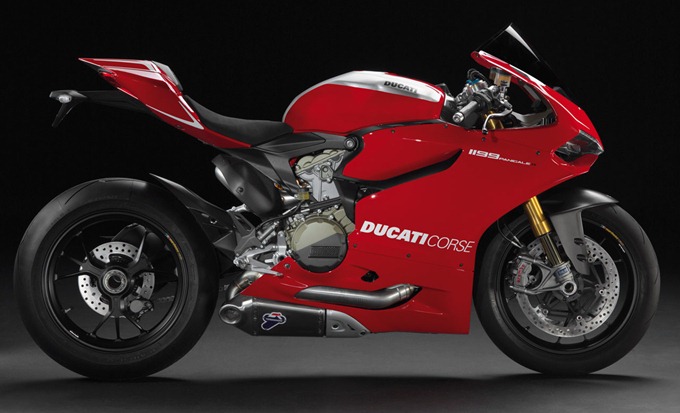 Speaking of the adjustable swingarm, Ducati says "the settings are dialed in using two user-friendly eccentric adjusters that offer pivot positions at +2mm higher, – 2mm lower and -4mm lower than the standard position, each positively and accurately locked and located. The clearly marked, easy-to-use system provides optimum adjustability for competition use."
Further, to reduce weight, Ducati has used several carbon fiber parts including a rear hugger, rear suspension guard, heels guards, ignition switch surround and top fairing inner panels. In addition the bike features race style seat fabric, GPS-enhanced DDA, Marchesini wheels and more.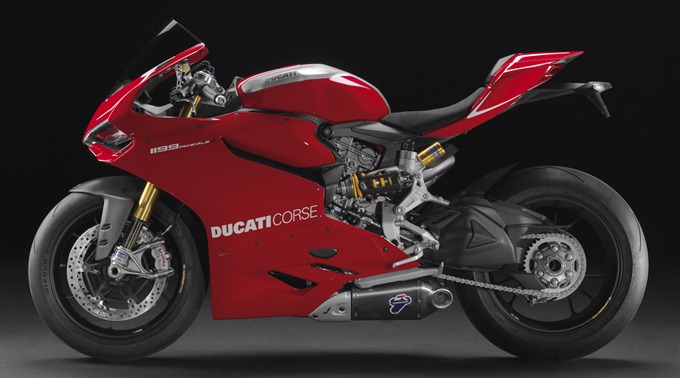 Color options for the motorcycle include Ducati red with white sticker highlights and brushed aluminium on fuel tank.
Price
The 1199 R is priced at USD $29,995.
2013 Ducati 1199 Panigale R Key Features
Ducati red with white racing features color scheme
Lightweight titanium con-rods
Lightweight flywheel
DLC-coated rocker-arms
Increased rev-limit (12,000rpm)
4-point adjustable swingarm pivot
Carbon fiber additions: Single-sided swingarm protector; Clutch cover protector; Rear hugger; Rear suspension guard; Footrest heel guards; Ignition switch surround; Top fairing inner panels
Race Kit: Full Termignoni exhaust system; Up-map key with dedicated ECU mapping
High-penetration racing screen; Fairing mirror-caps
Ducati Electronic Suspension (DES) that utilizes an Ohlins electronic 43mm front forks with adjustable Ohlins steering damper, and an Ohlins electronic TTX suspension unit on the rear
Ducati Riding Modes (Race, Sport, Wet)
Ducati Traction Control (DTC)
Ducati Quick Shift (DQS)
Engine Brake Control (EBC)
Ride-by-Wire (RbW)
ABS
DDA
Check out latest updates from 2012 EICMA show in Milan.